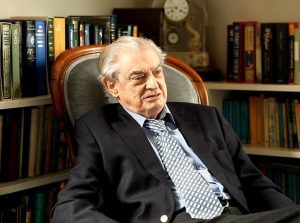 Peter Janson-Smith, the man Ian Fleming called the 'prince of agents', was born 100 years ago today. This appreciation is based on an interview I conducted with him in the run-up to his 90th birthday celebrations.
In 1956, Peter Janson-Smith was pondering how he could leave the employment of literary agents Curtis Brown and set up on his own. He knew he had the capability, but the cash flow challenges seemed daunting. He would have to recruit authors, secure publishing deals for them, wait for their books to be written and published, and then a further six months before the first royalty cheques came in.
Fortunately, one of Curtis Brown's existing clients, Eric Ambler, thought very highly of him. The crime writer was so impressed that Janson-Smith was generating more non-English language royalties than he was earning in Britain and the US combined that he lent the money that enabled Janson-Smith to open an office on the top floor of a building near St James's Park tube station in London.
Shortly afterwards, Ambler was at a dinner party and heard a fellow guest complaining about his lack of overseas book sales. The writer was sure that his hero had universal appeal, even though he was a very English character, yet only one foreign-language deal had been signed. The hero was James Bond, and on Ambler's recommendation, Ian Fleming phoned Janson-Smith and invited him to tea at Kemsley House, home of The Sunday Times, where Fleming, ironically, ran the foreign desk.
Fleming had concluded his own deal in the UK with Jonathan Cape and had a US agent, but he was able to place his translation rights with Janson-Smith, who acted with alacrity. He phoned Dutch publisher, AW Bruna, and said, 'I've got an author for you. He's had three books published and there's a fourth in the pipeline. He's going to make us both a lot of money, so I will accept a very modest advance in return for very good royalties.'
Bruna signed a contract for Casino Royale, Live and Let Die and Moonraker, with an option for three more books. 60 years on, Bruna have published Dutch language versions of all 14 Bond books without interruption, and in due course Janson-Smith helped Fleming to be translated into 25 languages. The author's dedication to Janson-Smith on his copy of On Her Majesty's Secret Service reads, 'Prince among Agents'.
Peter Janson-Smith was born the youngest of three children to the Rector of Wimborne St Giles, Dorset. The large garden of the Queen Anne rectory made for a wonderful playground, but his brother and sister were much older, and his mother disapproved of him mixing with the children of the village. His closest friend was Ken, the gardener, who took him on regular bicycle rides into the village to collect milk in a can, and who gave him a plank to swat wasps feasting on an old vine flourishing in the greenhouse.
Another member of the household was Janson-Smith's nanny. An unmarried mother, she had been turned out by her parents. Parishioners disapproved of the arrangement and complained to the Bishop, but the Rector argued that the most important Christian virtue was charity: 'She'd done nothing wrong', Janson-Smith recalled, 'Wrong was done to her'.
He began his education at the Cathedral School in Salisbury, which was open not only to choristers but to sons of clergy in the diocese. His basic learning came from headmaster E L Griffiths, and in his spare time he read comics – 'The Wizard was a wonderful thing' – and the historical novels of William Harrison Ainsworth.
He won a scholarship to Sherborne, where he particularly enjoyed Maths and thought he would go on to read it at university. Sport was a different matter. His master blamed him for his side losing the inter-house rugby cup for the first time in years. 'It's the moral problems raised by you. You teach the other boys to stay in and talk and read, instead of getting out and kicking a ball like a decent fellow!'
When Janson-Smith found himself struggling with the square root of minus one, he concluded that he should switch to English. Years later, a Professor of Maths at Cambridge told him that only a highly numerate person would struggle with such a concept, and he enjoyed applying algebra to everyday problems for the rest of his life.
He went up to St Edmund Hall, Oxford, keen to learn about Chaucer and Shakespeare, which was just as well, since his accelerated wartime degree lasted just four terms, with two afternoons a week given over to gunnery practice, and Chaucer and Shakespeare were all he studied.
He spent the Blitz in charge of an anti-aircraft battery on Hackney Marshes. The equipment at his disposal comprised a pair of ex-naval guns and hand-operated searchlights. When called into action he was too busy to be scared, even when a bomb landed sufficiently close to blow the roof off the nearby pub. Its landlord was away on service and his father, known to the locals as Grandad, had taken it over. After the raid, Janson-Smith and his crew ran to the pub and found a row of pints ready for them, lined up on a bar illuminated by candles. Grandad told them, 'I knew you boys would like a drink when it was all over, so I got 'em ready.'
When peacetime came, Janson-Smith thought he would like to work for Oxford University Press, but a board advising officers about to return to civilian life told him that the only job OUP had available was as a bible salesman for the African continent. Fortunately, the board had just received another brief which was also 'something to do with books'.
Literary agent A D Smith's very precise requirements for a new assistant were that he was to have no experience of publishing, and should be a young officer just out of service. Janson-Smith fitted the brief perfectly and started work at the prestigious agency, which had enjoyed considerable success since its inception in 1924 with writers such as Hilaire Belloc, C S Forrester and J B Priestly.
Janson-Smith learned his craft the hard way, having to placate an irate Evelyn Waugh on the phone more than once. Only later did he learn why there had been such a precise job description, and why it was so hard to please his employer. Peters had planned to welcome his son to the firm once hostilities ended, but Richard Peters had been killed in Burma in the last months of the War.
Janson-Smith moved to Curtis Brown, in charge of the foreign language department, in 1949, and enjoyed the 'good stuff to sell'. His working knowledge of French and German and a willingness to travel prompted great success, and seven years on, he struck out on his own, tasked with the enviable responsibility of selling James Bond to the world. By 1960, and the release of the eighth 007 book, For Your Eyes Only, he had also taken on Fleming's UK publishing, and the Daily Express Bond serialisations.  
He found Ian Fleming a fascinating man to work with, charming, courteous and rather shy, the antithesis of most famous authors he had met. It was only in hindsight that he learned what a compartmentalised life Fleming led. For eight years they met regularly to discuss business, yet it was only after the author's death that he became aware of Fleming's rare collection of first editions of books of historical significance, and his ownership of the Book Collector magazine. His had no idea that Fleming had a children's book in him until Chitty Chitty Bang Bang emerged.
Fleming's untimely death in 1964 did little to change Janson-Smith's role. Shortly before, the author had assigned his rights to a company named Glidrose, and appointed his literary agent as a director. Janson-Smith therefore retained his responsibility for the literary James Bond, and went on to sell the rights to the 007 continuation novels when these began in 1968 with the publication of Colonel Sun. This was written by Kingsley Amis, using the pseudonym Robert Markham. 'Typical Kingsley', said Janson-Smith. 'The opening chapters are brilliant but it begins to fall apart when he loses interest.'
There had been plans for an earlier continuation novel, but Janson-Smith prohibited Geoffrey Jenkins' Per Fine Ounce from being published as a Bond book, on the grounds that it simply was not good enough. He also had to put his foot down when Fleming's biographer and former colleague at The Sunday Times, John Pearson, decided to write Bond's 'official biography' in 1973. An early draft concluded with Bond's death, and Janson-Smith refused to permit this: 'That would ruin our Bond continuation business – we're not having that.'
Long-term arrangements with two authors, first John Gardner and then Raymond Benson, went more smoothly and produced a further 30 Bond books, but Janson-Smith had nothing to do with the more recent continuation novels and spin-offs, and held mixed views on them. He thought Charlie Higson had done 'an excellent job' on his Young Bond books, but cared little for Sebastian Faulks' Devil May Care. He objected in particular to the scene in which two armed motor cyclists chased Bond through Kew and were left for dead after a gunfight, without raising the slightest interest of the local police. 'I remember Ian saying to me, "I am always careful in my novels not to write something that is impossible. It may be improbable but not impossible."'
Over time, Janson-Smith came to form clear views of the role of the literary agent. He felt that it should be much more than merely winning the best possible terms for the author from the publisher, film company or newspaper. He believed he had a duty to read his client's work and advise on where it could be better, to maximise the chance of the work being accepted for publication. 'You have to have the complete trust of your author.'
This approach worked time and time again. Gavin Maxwell was poor with his management of money and regularly pestered Janson-Smith for more advances from his publishers, even when they were less than impressed with his sales. Fortunately, the agent was able to secure a new US deal just in time for Ring of Bright Water. The pair rejoiced in hard cover US sales of over 200,000, and marvelled at the 80,000 copies sold in Japan.
A young graduate named Richard Holmes was sent by his irate father to have the silly notion of becoming a writer knocked out of his head. When Janson-Smith saw the single article, published by The Times, which Holmes had written to date, he concluded that the notion was far from silly, signed him up, and persuaded Weidenfeld & Nicolson to take him on. Over a bottle of wine, the pair concluded that Holmes' first biographical subject should be Percy Shelley.
Shelley: the Pursuit, won a Somerset Maugham Award, and was the first of many Holmes studies of major Romantic figures. His second volume of memoirs, Sidetracks: Explorations of a Romantic Biographer, contains a type-written dedication to Janson-Smith, 'my friend through thick and beastly thin'. It is a reference to M R James' A School Story, as both men were fond of old ghost stories.
Away from his agency work, Janson-Smith was closely associated with the Royal Literary Fund for more than 35 years, first as Treasurer, then Senior Treasurer and finally President. AA Milne had bequeathed a portion of Winnie the Pooh's income to the Fund, which appointed Janson-Smith a trustee of Poo Properties Trust. In this capacity, he managed a tortuous set of negotiations with Disney over merchandising. His opening stance was, 'You must be mad, multiply it by five and we might talk to you!' Finally, after three and half years of discussions, he helped conclude the deal that set the Royal Literary Fund up for generations to come.
His 90th birthday was celebrated at Dr Johnson's house, and in Krakow, Poland, where the Centre for Jewish Culture hosted a concert in his honour. His partner for the last thirty years of his life, Lili Pohlmann, is a director of the Centre, which Janson-Smith supported.
He is also survived by three daughters and a son, Patrick, who until recently ran the Harper Collins imprint Blue Door.
He was asked once which was his favourite Bond novel. 'I think From Russia with Love, and I like On Her Majesty's Secret Service. Casino Royale is a much better book than a lot of people think, if you look at it carefully. I don't much care for The Spy Who Loved Me, but then nor does anyone else, and of course The Man with the Golden Gun … Ian didn't really have time to finish it off properly – it's doesn't quite hang together. But I like them all – so what the hell!'