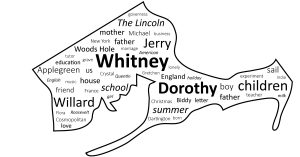 For five summers, a cliff-top idyll at Woods Hole, at the south-western corner of Cape Cod, MA, was where young Whitney spent his summers, grappling with the currents ripping through the Elizabeth Islands as he learned to sail in Buzzards Bay.
At his mother Dorothy's weekend retreat at Applegreen, in Long Island's Old Westbury, he kept a Studebaker – not a car, but a goat-drawn carriage in which he gave rides to his sister and brother. He preferred the rides his tutor gave him on the Long Island Motor Parkway, racing along in a Marmon convertible at a joyous 60mph, and the visits they made to Roosevelt Field, where he sat in the cockpit of a Jenny biplane, wiggled the joystick and stretched down to operate the rudder. Wings, wheels and water had become his passions.
Whitney was eight years old when one weekend, a very different kind of guest visited Applegreen. A penniless Yorkshireman named Leonard Elmhirst, he was studying at Cornell University and advising Dorothy on the construction of a students' union building in memory of Whitney's late father, Willard. Elmhirst had an apple fight with Whitney, explained what a cockerel got up to in a breeding pen which caused eggs to hatch, and looked the other way while Whitney burned his hands setting off Fourth of July fireworks. Whitney had a new best friend.
Four years later, his best friend became his step-father, and Elmhirst and Dorothy made plans for a new life in England. They acquired a country estate in Devon, to establish a liberal school at the heart of an agrarian utopia. It was called Dartington.